3 kids in under 4 years means doing everything for your little ones and putting yourself on the back burner…we'll at least that's what it's been like for me. I used to love hitting up the mall to shop, go for mani's and pedi's and of course spending time at the spa for massages and facials..USED TO! It's a whole different ball game when you travel with your entourage (the kids) or when you try to find a sitter just so you can get some alone time.
Recently, I decided that this Mamma deserves some time out of the house and so I made an appointment to visit the ladies at Glama Gal Tween Spa. I know what you're thinking…TWEEN SPA? Yup, tween spa! Glama Gal is no longer just for tweens and now provides services for Mammas like us (as well as teens) with the newest line they carry…Éminence Organics Skin Care. They also have a new private spa wellness and facial room and it's amazing! I was so excited to hear about this because let's face it, going for a facial is always awesome but a facial using quality organic products is sweet bonus. I'm sure you've heard it all before that our skin in the largest organ in our body and so what we put on it is really important, well at least it is to me. I care more now than ever to be healthy not only for myself but for my kids so making the right choices like choosing an Éminence facial over another that uses non-organic products is something I'm always looking for.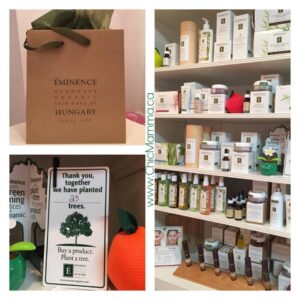 When arriving at Glama Gal (Vaughan location) I was greeted by Vanessa their Head Esthetician and first thing we did was discuss my skin, any issues with it and take a look to determine what the right products for me would be. Éminence carries products for all skin types from hyperpigmented skin, sensitive skin, aging skin, acne prone skin as well as hormonal acne skin. For myself we used a combination of products from a few different lines to come up with something specifically for my skin. I was able to see, touch, feel and smell everything which I loved because you really don't get the opportunity to do this when you go for a facial. Usually you're laying down with your eyes closed and have no idea what they are using on you. Being able to take a look at everything before hand really amazed me as I couldn't believe that I could see the actual organic ingredients in the products like the seeds, pulps and peels. Everything is handmade and created in a way that the vitamins from these natural ingredients are not compromised so you are able to reap the benefits of the fruits and vegetables used to make these products. Oh and let me tell you…the smell, well it made me want to eat some of the products like their Strawberry Rhubarb Masque…which if you wanted to eat you totally could haha. As for the facial, it was fantastic! I was able to kick back, relax and enjoy some alone time while Vanessa did her thing…just what any Mamma needs and WANTS 😉 .
One thing that has really stuck with me from my visit that day was the story behind the Éminence brand. The president for Éminence, Boldijarre Koronczay, is a survivor of a rare form of childhood Leukemia and thanks his mother and grandmother for being here today. When Boldijarre was undergoing treatment he was put on a strict diet that consisted of organic and Biodynamic foods which helped him get better and stronger so that his body was able to fight the illness. Boldijarre strongly believes in nursing the body both inside and out in order to achieve total health and wellness and because of this and what he endured at a young age he created the Éminence Kids Foundation. Through the foundation they donate organic fruits, vegetables and food to sick children around the world. They believe that providing organic, locally-sourced and nutrient-rich foods for seriously ill children to eat is an essential part of their treatment, healing and long-lasting health. Another amazing thing they do is give back to our earth! For every Éminence product sold they plant a tree and just this past year they were able to hit an amazing milestone of 5 million trees…now that's awesome!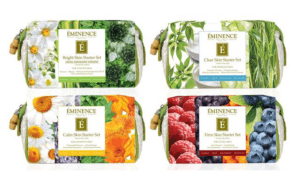 So next time you're in need of some MAMMA TIME definitely check this out! And hey if you can't find that sitter for your little one don't stress because the amazing team at Glama Gal understand what it's like to be a Mamma which is why they take pride in being Mamma friendly. Babies are always more than welcome to come and stay with you in the room while you have your facial…pretty awesome right?! Or maybe your little one isn't so little anymore? Why not book facials side-by-side and enjoy some time together. Don't take my word for it, give them a call and go see for yourself! Where else can you get an hour long facial with amazing all natural and organic products for only $80 (or the duo for you and your daughter or friend for $145). While you're there you can also pick up some of their great products to take home and without breaking the bank either…you can get starter kits for as low as $58.
Thanks for offering this great new service for us Mammas Glama Gal..this Mamma had a blast!
For more information or to book a Éminence facial be sure to visit
 Glama Gal Tween Spa online, "LIKE" them on facebook and
"FOLLOW" them on twitter, instagram and pinterest.
Be Confident! Be Positive! Be YOU!