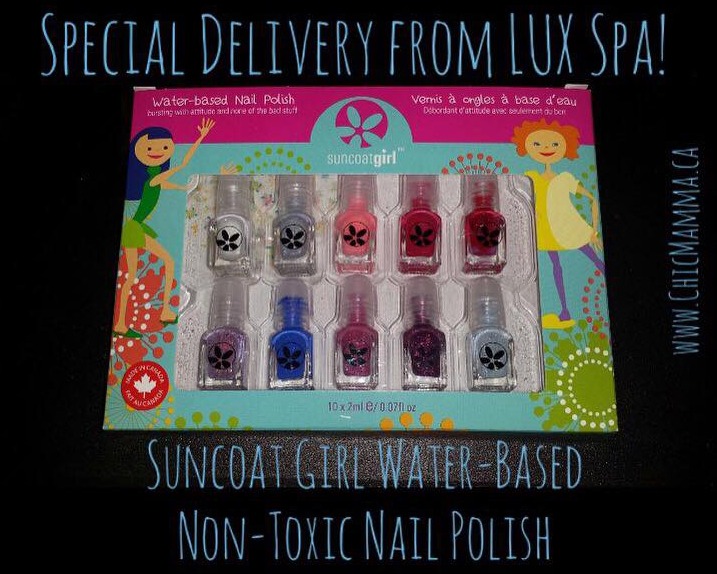 For those of you who don't know much about me, I'm a Mamma of 2 amazing girlie girls (Samantha 4 and Liliana 2) and one of our fave things to do together is paint our nails!
Recently, I was introduced to a brand new line exclusive to ChicMamma.ca Vendor LUX Spa and it's called SunCoat Girl. I'm all about trying to find the best products on the market because the last thing I want to do is go near my girls with anything that's not good for them. I've tried a variety of natural nail polishes out there that are branded Non-Toxic but I find they either wash off 5 minutes after you put it on, are over priced, you need to buy their special Non-Toxic nail polish remover that costs an arm and leg or if it's the peel off kind it actually peels off a layer of your little one's nail which I'm not really interested in. So, when I heard about this new line I just knew it was something we had to try and test out and boy am I glad we did 🙂 !
SunCoat Girl Water-Based Non-Toxic nail polish is now our go to polish for all our Mamma and Me mani's and pedi's in the Chic Mamma house. They come in a variety of amazing colours, the price point is fantastic (for example the SunCoat Girl Party Pak you see above includes 10 nail polish colours, 2 nail art decal stickers and a nail file for ONLY $16.99 plus taxes at LUX Spa) and there is no need to buy any pricy and special nail polish remover because this is a peel off polish that DOES NOT peel off a layer of your child's nail. It's product that as a Mamma I'm not worried about putting on my girls and that says a lot.
One of my fave things about this line that is you can also match some of their amazing colour to the line they have for adults so if you want a matching Mamma and Me mani or pedi you can totally do that.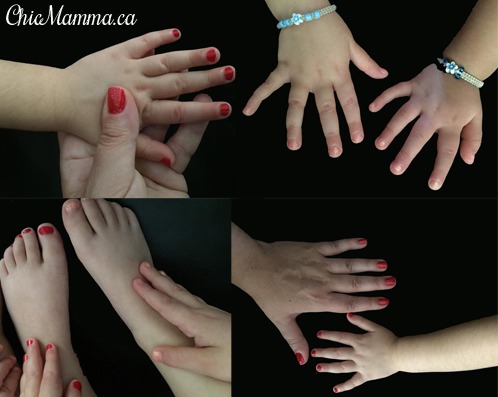 For more information or to get your hands on some of this amazing kid friendly and Chic Mamma approved Water-Based Non-Toxic nail polish be sure to reach out to the awesome team at LUX Spa.
Also RIGHT NOW with the purchase of any SunCoat Girl Party Pak you'll get a COMPLIMENTARY LUX-girl Mani just be sure to mention Chic Mamma 😉 .
Happy painting!
Visit LUX Spa online,
"LIKE" them on Facebook, "FOLLOW" them on Twitter, Pinterest and Instagram.