"Walk through the door, your worries behind you, your joys are ahead" are the words that will greet you as you walk towards the big yellow door. The yellow door that stands alone in the fields of vibrant purple lavender at the Terre Bleu Lavender Farm in Milton (Ontario).
It isn't everyday that you can get in your car and take a drive to place that is as magical and fairytale like as Terre Bleu. Imagine pulling up to beautiful gates at the entrance of the farm, the smell of 8 different varieties of lavender to greet you and endless fields of purple. Sounds dreamy doesn't it? Terre Bleu has been around since 2011 and it all came to be after the Baird family took a trip to Quebec where they visited a lavender farm there. The story has it that this Toronto family was looking for a change and so they packed up their city bags and traded them in for some purple converse running shoes, a few lavender plants (like 10,000), some honey bees and a couple of horses. All I know is that whatever the story is I'm grateful Ian and his wife Isabelle made this lifestyle change and opened up Terre Bleu (an organic working family farm).
I still remember my first visit to Terre Bleu. I remember feeling like I was transported from reality into one of the many fairytale books I used to read as a child. It was beautiful and serene. Off to one side of the field, sunflowers were being painted by Peter Lewis (an artist who was visiting from St. John's), while dead on were rows and rows and rows of the most beautiful and bright purple lavender I've ever seen. The whole time I kept thinking…OMG I wish the girls were here with me. I toured the complete farm that day and when I got home I told them all about it and made a promise that we would return all together as a family which we just did.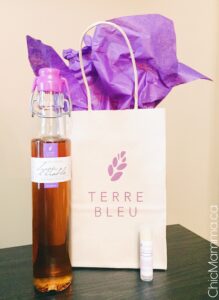 Samantha and Liliana loved it and even Marcus had a great time running around everywhere. From the lavender ice cream, to lavender lemonade, running through the fields to visit the distillery and learn how their most amazing organic lavender essential oil is made, to spending some time with the hard working honey bees that live on the farm at the apiary, to their herb bar, visiting the horses, a walk through yellow bench trail and of course a sprint straight to the big yellow door before visiting the Terre Bleu shop all while live music played off to the side of the main field.
Their little shop is truly amazing! It's where you can purchase their lavender essential oil (see all the many uses for lavender oil here), lavender honey that their honey bees work so hard on, lavender maple syrup (which is a staple here in the Chic Mamma house for our Sunday pancake breakfast), lavender beeswax candles, lavender shortbread cookies, lavender bug repellant, lavender gouda cheese, new lavender lip balm (I'm currently obsessed with this) and so many more amazing lavender items.
Our day was filled with smiles, laughter and love. Not a worry in the world as those were all left behind and the joys were all ahead!