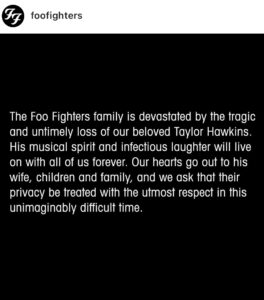 There are moments in life that will forever be engraved in our minds, and let me tell you, my 42nd birthday yesterday will be one of them. I'll go as far as saying that it is up there with my 36th birthday (my first birthday without my dad)…so basically, it was one of my shittiest birthdays and just as I thought, oh thank God I can finally go to bed, close my eyes and say goodbye to this crappy day, I read the news.
Posted 9 minutes before I saw it, the Foo Fighters announced the untimely and tragic passing of their bandmate, their brother, and their drummer Taylor Hawkins. At first, I thought it was some kind of joke, and I was missing something on the post. If you know the guys, you know they joke, so I was like, ok, where's the keyword here to tell me that this isn't real. I read it over and over and over again, and there was no punchline; this wasn't an early April Fools Day joke; this was for real, Taylor Hawkins died!
My mouth dropped, and I let out a big gasp. Like, what the fuck did I just read?! Taylor Hawkins dead! What?! Taylor Hawkins of the Foo Fighters (one of my fave bands), kick-ass drummer, husband, father, and all-around kick-ass guy! Instantly, all these memories came rushing back to me. Memories of all the Foo Fighters concerts I attended, and let me tell you, there are more than I have fingers to count on. All the radio interviews we did with them and, of course, all the amazing promotions I had the pleasure and honour of working with them on.
Taylor had this crazy insane energy; it was contagious (much like that of his bandmate and best friend Dave Grohl and friend Mike McCready of Pearl Jam). He was always smiling, laughing, joking around, and when it came to his fans, he would be right there chatting it up and taking pictures with them even when their publicist and record label people would be pointing to their watch and saying, "ok guys, we gotta go."
As I sit here writing this, the memories keep on coming. Like how I would love to watch his drum solos at shows or when he would swap places with Dave, and he would take the mic, and Dave would jump on the drums so Taylor could cover "Somebody to Love" by Queen. Then there were all the visits they would make to the radio station like when I organized a party in the studio with fans, we had Chinese food, and we played Guitar Hero. Or the visit where the band wanted to go down the slide (yes, we had a 2-3 storey high enclosed slide at the radio station), and Dave thought it would be funny to fart in it so that Pat Smear going down next would get hit with the smell. Dave, Taylor and I waited on the bottom of that slide, laughing our asses off. There was also the time that we had a last-minute promotion come through, and it was called the "Foo Fighters Garage Tour," where one lucky winner would win and have the Foos play a private concert in their garage. It was out of this world! We had no time to plan, and everything was top secret. I was super pregnant with Samantha at the time, too, like ready to pop pregnant, and I was standing front row in our winner, Nick's garage on a farm in Georgetown with the band not more than 10 feet in front of me. We had a blast that day; everyone was laughing, singing, and joking…by far one of the best promotions I got to do with them (click here to watch the video). The guys, including Taylor, were always so grateful for everyone's hard work and would always stop to thank everyone behind the scenes. I also remember when I couldn't go to one of their shows because I just had Samantha, so since I couldn't go, I decided to pack her up and bring her with me to meet the guys during the day. All the guys took pictures with Samantha that day and even autographed her onesie (yes, she's one lucky kid, haha).
I still can't believe this news. Taylor was so full of life, and my heart breaks for everyone who knew him, especially his wife, kids and Foos brothers. He was down to earth and loved what he did; he was grateful and humble, the signs and characteristics of a true rockstar!
A lot of musicians that I admire and respect have passed on, but hands down, and by far, this one hits the hardest (yup, more than Cornell or Bennington for me). Thank you for the memories, Taylor! Thank you for the music! I was so looking forward to seeing you behind the drum kit this July. This world just won't be the same without you!
Now, if there is one thing I can leave you with, it's this quote from the man himself…
"Life is funny. If you don't laugh, you're in trouble." ~ Taylor Hawkins (February 17, 1972 – March 25, 2022)