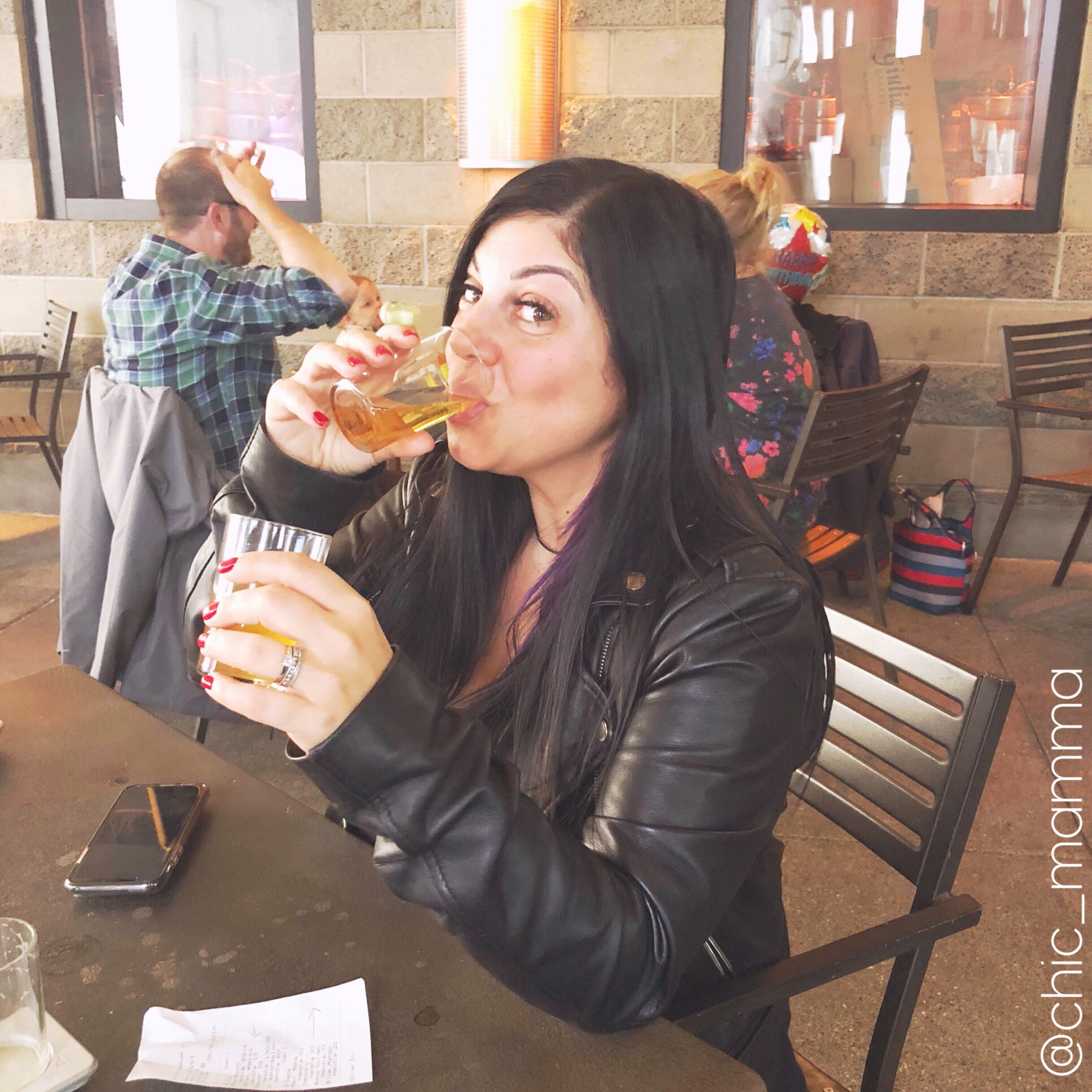 It's been a while since I took a moment to stop and introduce myself. Many of you have been here before and are familiar with the craziness that is me, but for those of you who may be new I thought it would be a good time to say hello and share a bit about myself.
You ready? Here goes!
So who is Chic Mamma aka Pina Crispo? Well, here's the run down along with some fun facts.
♥ I'm the daughter of Vito and Felicia Crispo who immigrated to Canada from Italy in 1971 which makes me a first generation Canadian. #PinaFact: I have a dual citizenship for Canada and Italy.
♥ I am the youngest of 3 girls and my sisters (Cathy and Lisa) are 8 and 7 years older than me.
♥ I'm a wife and a Mamma to 3 awesome kids (Samantha, Liliana and Marcus)
♥ I knew from a young age that I wanted to work in radio broadcasting and got my first gig in the industry when I was 16 years old. I later attended Humber College for their Radio Broadcasting program. I also now teach Media Branding and Creative Content for this same program.
♥ I spent most of my radio career working in marketing and promotions but also did on-air work for some of the largest rock radio stations in Canada (Q107 & 102.1 The Edge). #PinaFact: While I was the Edge I was the youngest to hold the title of Promotions Director and the first female while under the Corus Entertainment ownership.
♥ I am a professional voice actor (going one 16 years now) and have worked with Sony Playstation, McDonalds, Molson, The Bachelor Canada, Degrassi The Next Generation, The Toronto Argo's, Nickelodeon/Nickelodeon Jr Canada as well as cartoons like G2G ( in Australia which was later picked up by CBC) and Mia & Me (on Netflix) just to name a few.
♥ My life as a blogger came long before becoming a Mamma. I used to blog for the Edge when I worked there and used to write about the alt rock lifestyle. My blog was called "Rearview Mirror" which is also a Pearl Jam song title.
♥ Music is a huge part of my life and live concerts are my vibe. I'm constantly listening to music…like CONSTANTLY! Wanna make me happy, take me to a concert!
♥ Talking about music, Pearl Jam is my all time fave band. I don't have enough fingers and toes to count how many times I've seen them. Some of those shows include ones that were outside of Canada like a private show at the Vic Theatre in Chicago back in 2007. #PinaFact: Back in 2016 I was hired by the band to put together a promotion for them to celebrate their Toronto shows for their 25th anniversary.
♥ Love tattoos! I have 10 and have a few more I want to get done. #PinaFact: 5 of them are Pearl Jam related which include song lyrics from Release, Footsteps, Untitled and Light Years.
♥ My fave book series is Harry Potter! #PinaFact: I own a sorting hat, Harry Potter lunch box and a Luna Lovegood wand.
♥ I learned to surf on Waikiki beach in Oahu, Hawaii and Hawaii is also my most favourite place on earth.
♥ I am a reiki practitioner (level 1 and 2)…yup, I'm all about energy healing.
♥ I used to Belly Dance and perform…that was prior to kids when "ME TIME" was a thing haha.
♥ I use the word "FUCK" in almost every sentence that comes out of my mouth. Yup, big potty mouth here…probably one of the worst you will ever come across. #PinaFact: I actually pronounce it "FACK"! lol
♥ My dad past away July 25th, 2015 of cancer and I miss him every single day.
♥ I'm the host of The Parenting Show on Global News Radio 640 Toronto (executive producer Sandra Carusi). #PinaFact: It's the only parenting show on terrestrial radio in Canada.
♥ I only wear silver accessories, even down to the studs on my leather jacket. I wouldn't be caught dead wearing gold.
♥ I pretty much only wear black, gray, white, leather, denim and sometimes red. #PinaFact: I own 20 black tank tops, which are all slightly different and it takes me forever to decide which one to wear.
♥ I have a bit of an obsession with Christian Slater and am so disappointed that he doesn't have a star on the Hollywood Walk of Fame haha. When I visited L.A. I actually searched for it but nothing, just ask Denise of Bellz and Bunz lol.
♥ If you follow me on social media (ie: Facebook or Instagram) you'll know that I love my kids but often refer to them as…little shits, assholes and fuckers.
♥ When people meet me in person they're a little surprised to see how small I am…all 4 feet 11 1/2 inches of me. That's right that 1/2 inch matters lol
♥ I kickbox and play outdoor soccer in the summer.
♥ I'm a rock chick and rough around the edges.
There you have it, an inside scoop on all things Pina. Hope you liked it and if you want more you can always catch my stories on Instagram.
Peace out ♥??