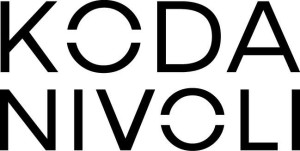 The Chic Mamma Holiday Gift Guide for 2016 has arrived and I'm so pleased and excited to be kicking things off with local Toronto designer Ksenija Dias of KODA NIVOLI!
KODA NIVOLI launched this past spring with their amazing line of luxurious handbags and accessories for women, men and children. Gorgeous statement pieces, quality made and fantastic price points is what they are all about. Since their launch, their products have been seen on TV, in print and of course on the red carpet during TIFF.
This holiday season whether you're looking for the perfect gift for that special someone or that amazing statement piece to complete your look, KODA NIVOLI has you covered. Let me show you exactly what I mean.
For the ladies, we all know that a little black dress can go a long way. Rule of thumb is keep it simple and let the accessories complete your look. Go with a classy look, something a bit funky, trendy, edgey…the choice is yours and it's really easy to do…just add some amazing arm candy or a great set of earrings from KODA NIVOLI. Have some fun with it, dress it up and create a look that is all you. Prices range from $20 to $90 a piece.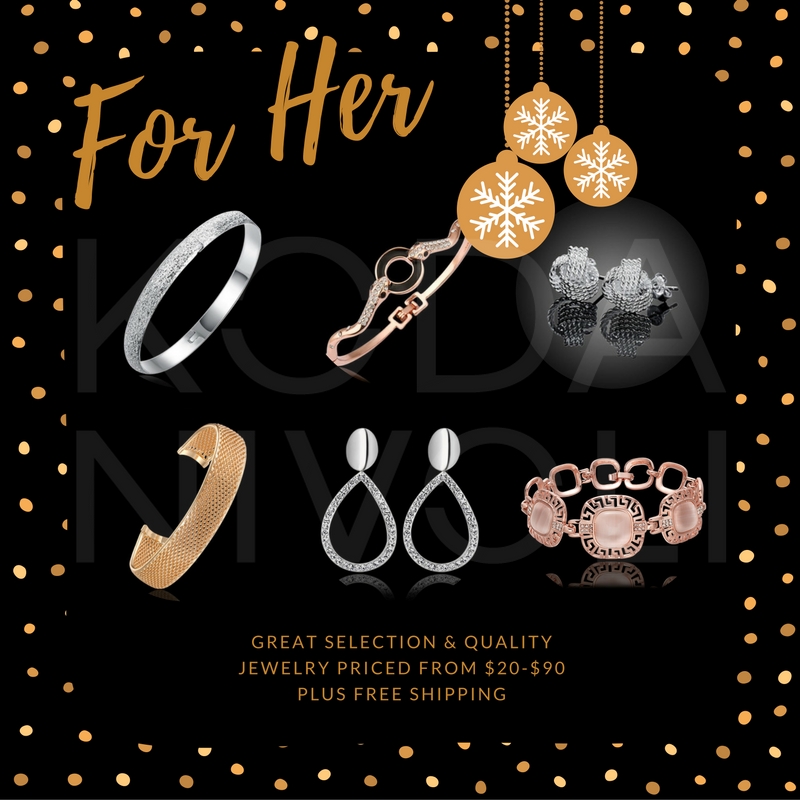 Now for the men! There is nothing better than seeing a man all cleaned up, polished and of course sporting a sexy suit. You don't have to get all fancy but you can have a little fun with it and so this year's gift guide is featuring these amazing and beautiful KODA NIVOLI cufflinks. It's the perfect accessory for the man in your life and with a great selection to pick from. The best part is that they range in price between $50 to $70 dollars so if you can't decide just grab him a few 😉 .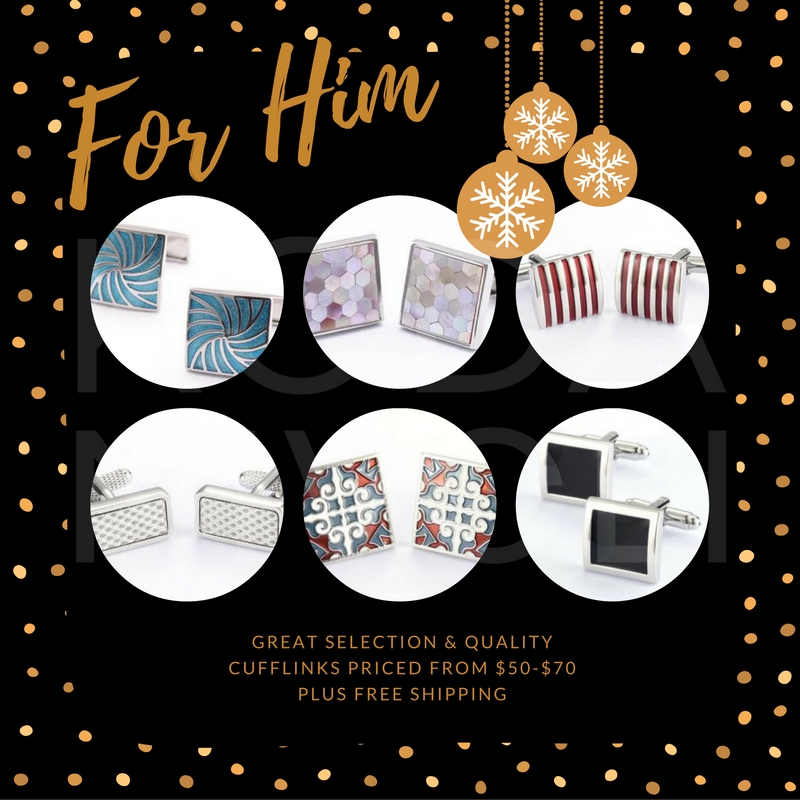 Saving the best for last is the brand new KODA NIVOLI Annie clutch! This clutch is oh so CHIC and we are in love with it. It's the perfect add on to any outfit. Made with the finest lambskin leather or suede this is a MUST HAVE. Available in 4 colours (black, blue, mauve and gold) it will go with a sexy dress or even your fave pair of jeans with rockin' heels. Throw your cell phone in it, some cash, cards, your fave lipstick and you're ready for a night on the town. Hold it in your hand or throw on the beautiful chain that comes with it and wear it over your shoulder or as a cross body. We absolutely love this versatile piece from KODA NIVOLI and know you will too!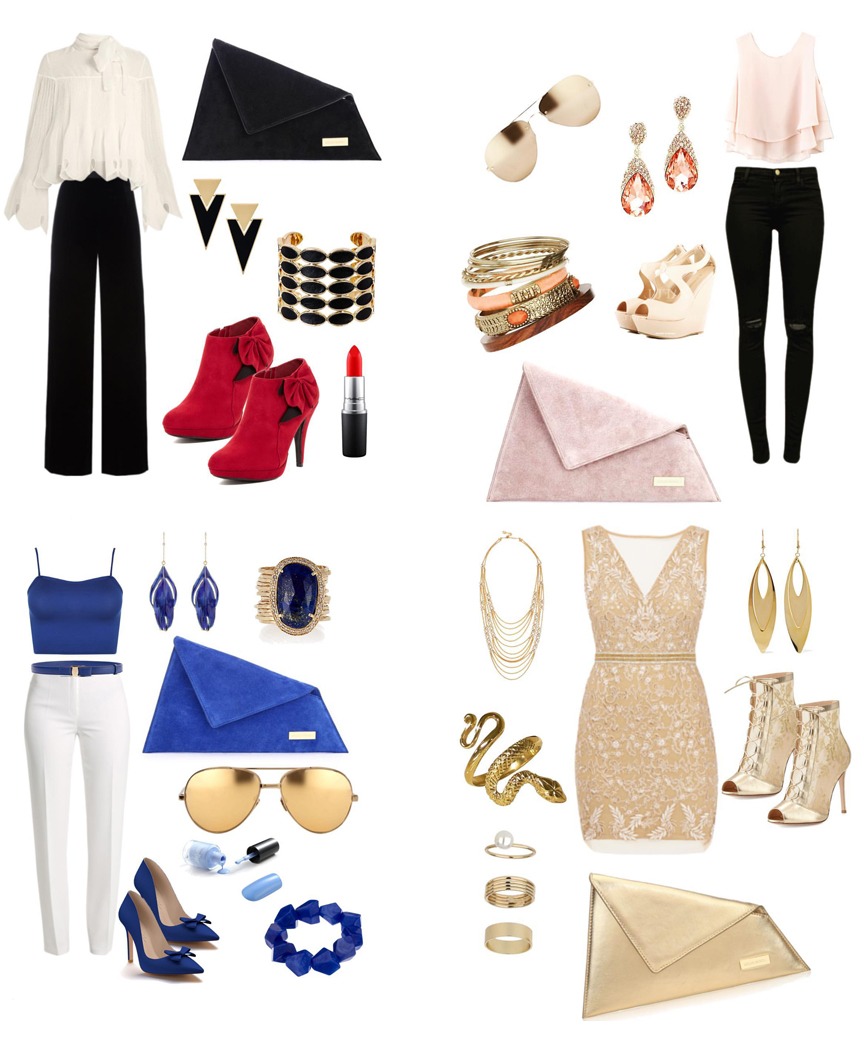 The Annie clutch is a steal at $149 which is a fab price but we figured that for all our awesome Chic Mamma readers we'd sweeten that up a bit with an additional 15% OFF* and FREE SHIPPING when you use promo code CHIC15 upon checkout on the KODA NIVOLI site at kodanivoli.com. Now you have no reason not to pick one up for yourself and maybe purchase a few more as gifts…honestly, you can't go wrong!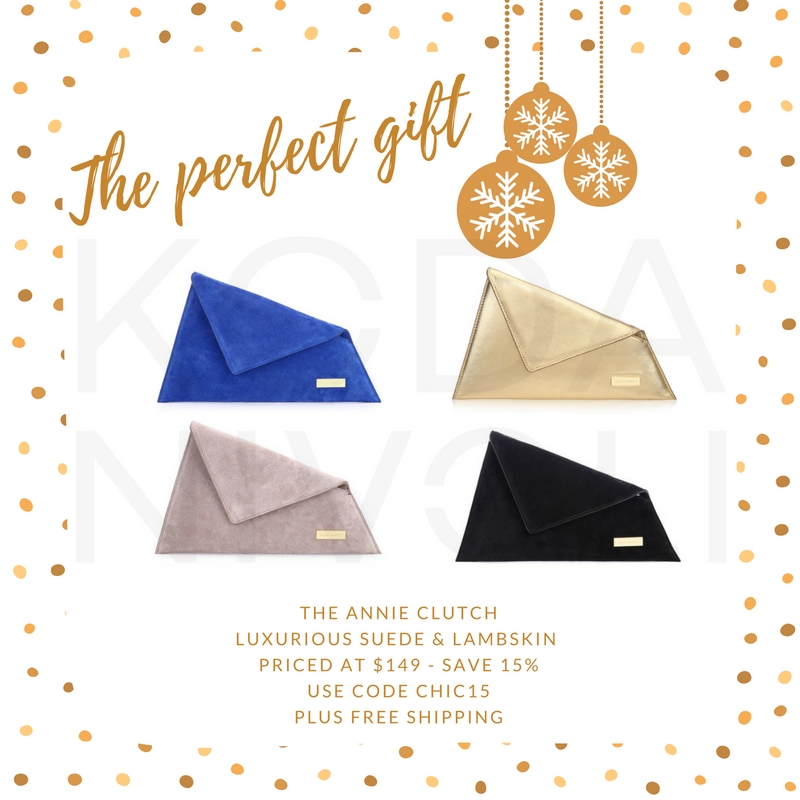 *promo code CHIC15 is valid for the ANNIE CLUTCH online only at  kodanivoli.com
* can not be combined with any other coupon or voucher
* valid until Jan 6, 2017
* unlimited use per customer for this product only
So there you have it, our top picks from awesome Toronto brand KODA NIVOLI for this holiday gift giving season. Stay tuned for more from the Chic Mamma Holiday Gift Guide and happy shopping!
For more information on KODA NIVOLI be sure to check them out online,
"LIKE" them on facebook and "FOLLOW" them on instagram, twitter, pinterest and polyvore.