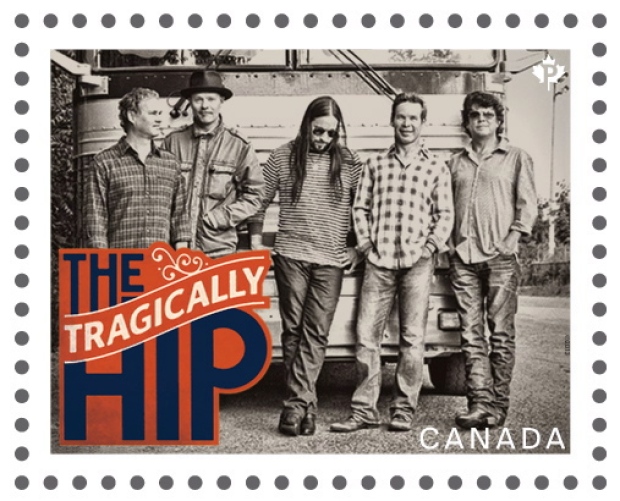 It doesn't really matter how old you are, what kind of music you like or where in Canada you live because chances are, is that you know the music of The Tragically Hip and are familiar with the poetic lyrics of frontman Gord Downie. The Hip is as Canadian as hockey and maple syrup and so when we learned about Gord Downie's glioblastoma diagnoses…a incurable form of brain cancer we all couldn't help but feel some sort of emotion.
Gord, 52, started treatment back in December and has undergone surgery, chemotherapy and radiation. Even with all that going on the band decided that it was important to say farewell to their fans and announced a final tour…The Man Machine Poem Tour.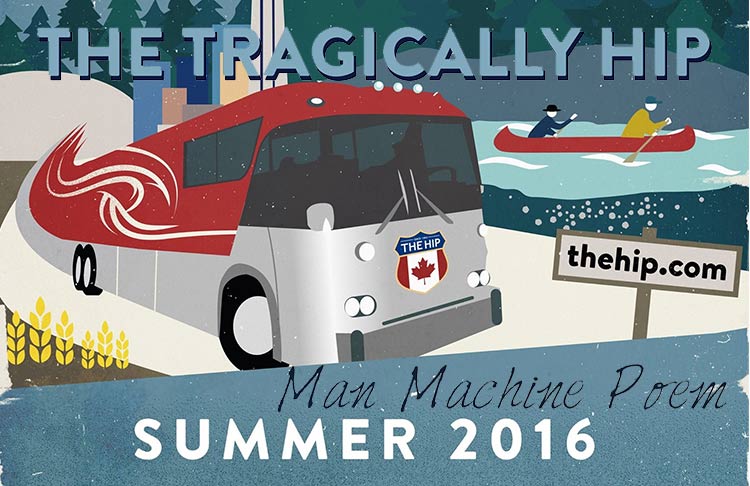 They kicked things off on July 22nd in Victoria, BC and hit up cities across our great country for a 15 show tour. Tickets went on sale and everyone went nuts trying to score a seat to see one of their most beloved bands play for the last time. It was pure mayhem and disappointment to many when they turned up empty handed. At that point, the band decided to team up with the CBC to broadcast their FINAL show in Kingston, Ontario to make sure everyone could take part…leave no one behind! The CBC broadcasted and streamed the concert commercial free on CBC Television, CBC Radio One, CBC Radio 2, CBC's YouTube channels, and cbcmusic.ca.
This past Saturday we came together as a nation to celebrate something that unites us all as Canadians…the music of iconic Canadian rock band The Tragically Hip and of course Gord Downie. Kingston's Rogers K-Rock Centre was rammed with a sold out show while others gathered with friends to watch from their homes, bars, town squares, and cottages. 11.7 million people watched the show…that's 1/3 of the country and more than 900,000 people streamed it from around the world…insanely amazing!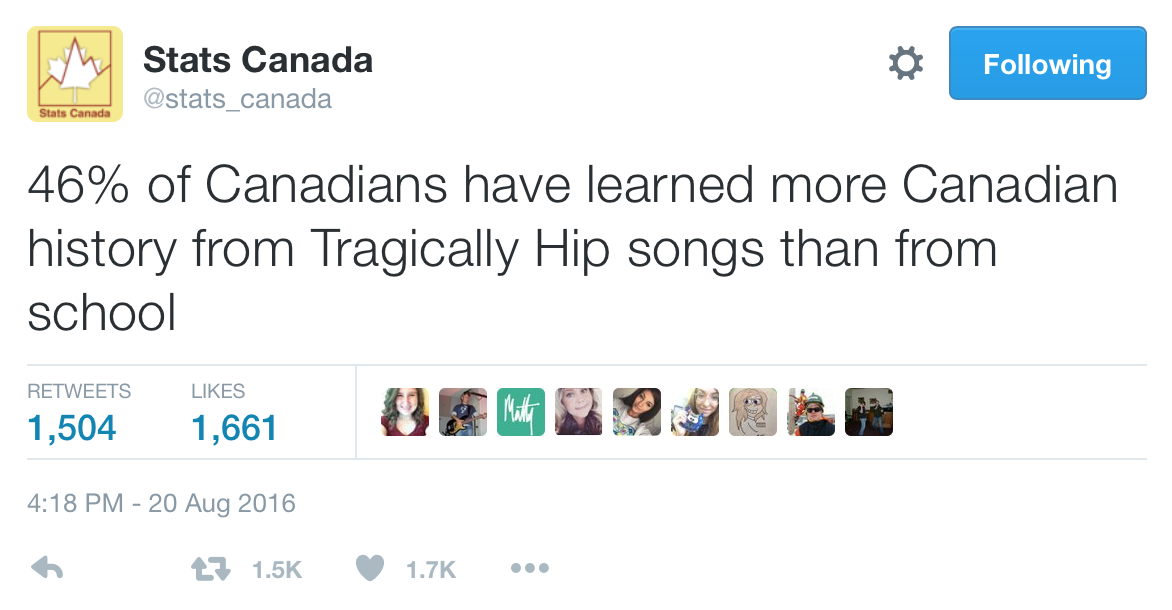 The concert was set to kick off at 8:30pm EST and I was ready or as ready as can be for what I knew was going to be an emotional next few hours. I had front row seats on my sofa as I flipped the channel over to the CBC. I along with many was greeted by the great Ron MacLean who was broadcasting live from the Olympics in Rio along side of Team Canada. Ron said a few words and then threw it to the Hip in Kingston. The first thing we saw was the band getting ready to hit the stage and Gord giving a kiss to each and every one of his bandmates. My heart sunk knowing that this was it! I'm not a huge Hip fan, I never was but I do respect the band a great deal and enjoy their music. Hell, this is a band who taught us a crap load about the history of the great country we live in through their songs. According to a @stats_canada tweet they said that "46% of Canadians have learned more Canadian history from Tragically Hip songs than from school". Bottom line is that we are Canadian and the Hip is a part of who we are…some would even say that they are a part of our DNA.
It was time! The guys took to the stage, the crowd went nuts and they kicked off the set with "50 Mission Cap". As they played, so many thoughts ran through my head. Thinking about what the band was feeling, thinking about those watching live at the K-Rock Centre, the fans who wanted so badly to be there but couldn't, Gord's friends and his family (his wife Laura and their 4 children) and most of all Gord himself. It made me emotional and I felt for all of them.
As the show went on they played all our favourites and the songs that put the Hip on the map and made them who they are today. We heard "Courage", "My Music At Work", "Twist My Arm", "Bobcaygeon", "New Orleans Is Sinking", "Grace, Too" (which brought us all to tears when we saw Gord wipe away his tears) and they closed it off with "Ahead By A Century" which they truly are!
It was a show that we will never forget, one that will go down in history and not only will it have people talking about it for years to come but also got the attention of many already including the guys from Pearl Jam who played Wrigley Stadium that same night. Lead singer Eddie Vedder took a moment during their show to acknowledge Gord and the Hip, send some love their way and dedicated a song to them. When you see stuff like this happening you realize just how much love and respect people have for The Tragically Hip.
Another person who took part in Saturday night's farewell was our very own Prime Minster Justin Trudeau. It was great seeing our leader there amongst the many supporting Gord and the guys. Gord took a moment to acknowledge Trudeau and say "Thank you to the Prime Minister for coming to our show, it really means a lot to all of us,". The two met prior to show and snapped a few very touching photos together. Trudeau also later tweeted "On behalf of Canadians, I thank Gord Downie and the Hip for their decades of service to Canadian music. Forever in our hearts and playlists.".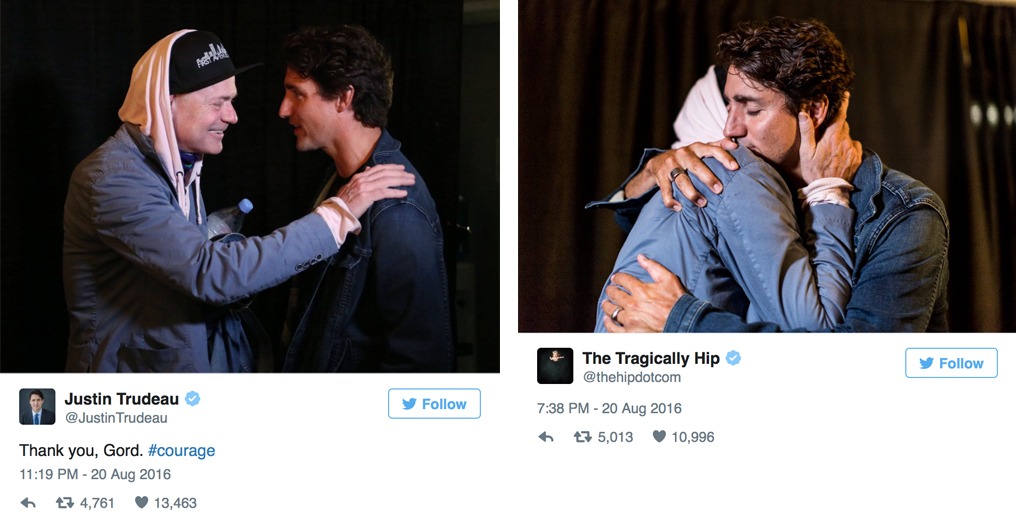 They rocked it! Plain and simple! They came out, gave it their all and celebrated 30 years of The Tragically Hip. 30 years of great music! 30 years of amazing Canadian rock! It was amazing to see the crowd dance, smile, shed some tears and of course singing along with Gord.
I don't think I will ever forget this concert for as long as I live and Gord's words last night will stay with me forever, especially when he said "Thanks for listening in the back. Thanks for listening, period. Have a nice life.".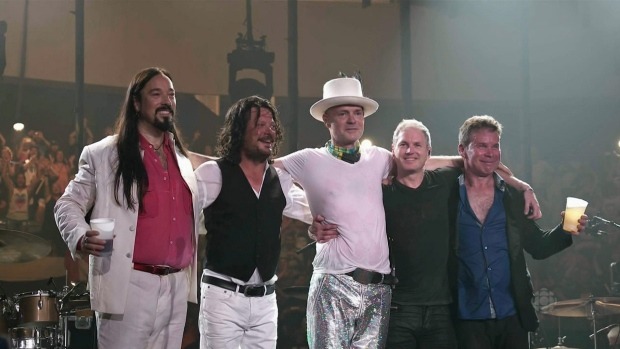 A big THANK YOU to The Tragically Hip and an even bigger THANK YOU to Gord! It takes a lot of courage and strength to do what you did and it means a lot to all of us xoxo
#InGordWeTrust